West Town In The Spotlight
1) Chicago Cubs: Someday Nike Commercial Puts Spotlight on Eckhart Park in Noble Square
Nike was anticipating a Chicago Cubs World Series win after 108 years without a national championship. The athletic apparel giant hired an ad firm out of Oregon to create the Chicago Cubs: Someday commercial that was filmed in Noble Square's Eckhart Park at 1330 W Chicago Avenue in West Town. Views of the Chicago city skyline and St. Boniface Church at 1358 W. Chestnut can be seen in the background while a young boy takes the mound and imagines himself playing for the Cubs. The commercial ends with the boy hitting a homerun and winning the game for the Cubs.
2) Shop West Town at the West Town Winterfest – Saturday, December 10th from 12pm – 6pm
Help support local businesses in the West Town commercial districts this holiday season at the West Town Chamber of Commerce Winterfest on Saturday, December 10th from 12pm – 6pm! Funds raised at the event will help support the West Town Chamber's operating budget, the major commercial corridors, local parks, schools and other local non-profit organizations. RSVP for the West Town Winterfest HERE.
West Town Winterfest will feature over 20 stores showing off their spirit this holiday shopping season as shoppers follow the Winterfest shopping guide through the neighborhood. Participating retailers will feature one of a kind items, special promotions, trunk sales, and other holiday items.
Hop on the West Town Winterfest guided Jolly Trolley tour and enjoy Winterfest without the walking. The guided tour lasts 3 hours, features all of the shopping blocks and provides a "checked shopping bag" service so you don't have to worry about your gifts while you shop. Receive a $20 Gift Certificate when you purchase a $10 Jolly Trolley ticket. Trolleys depart from the Shapiro Ballroom 1612 W. Chicago Ave. at 12pm and 3pm.
The 2016 West Town Winterfest will also feature the Division Street "Naughty List" After Party Stroll. Put on your best holiday gear and head out to our favorite bars and restaurants on Division Street for samples and suds as we Do Division After Dark. Official After Party at The Fifty/50 2047 W. Division St. 6pm-10pm.
West Town Winterfest Holiday Shopping Guides can be picked up at any of the participating locations, or at the Winterfest Headquarters at the Shapiro Ballroom 1612 W. Chicago Ave. 12pm-6pm. Support your local neighborhood businesses and shop West Town this holiday season! Learn more about the West Town Winterfest here.
Eat / Drink / Sleep
3) West Loop and Near Northwest Side Culinary Scene Full of Michelin Stars in 2017
Riding the tailcoats of the Michelin Bib Gourmand Award winner announcements, the Michelin Guide later announced that its Michelin Stars are shining bright in the West Loop and Near Northwest Side culinary scene, proving once again that if you want to taste the best of the best in Chicago, the neighborhoods just west of the Chicago River is where you need to dine. A total of 10 restaurants in the West Loop and the Near Northwest Side of Chicago were awarded Michelin Stars in 2016.
Check out the list of West Loop and Near Northwest Side 2016 Michelin Starred restaurants below:
Grace (3 Stars / West Loop), Oriole (2 Stars / West Loop), Blackbird (1 Star / West Loop), El Ideas (1 Star / Little Italy), Longman & Eagle (1 Star / Logan Square), Parachute (1 Star / Avondale), Roister (1 Star / West Loop), Schwa (1 Star / Wicker Park), Sepia (1 Star / West Loop), Smyth + The Loyalist (1 Star / West Loop).
Our conclusion? If you got a taste for excellence and you want to live near some of the best restaurants and chefs in the world, contact us to schedule your home buyer consultation today! 773-945-5814
New Development
4) Tesla's New Solar Roof Technology Stirs Excitement for Homeowners to Save Money
It is an exciting time to be in real estate because homeowners can now help save the world, and look good while doing it! Elon Musk – one of the world's greatest innovators of our time, recently unveiled his company's new solar roof technology and boy oh boy is it something to behold.
The new solar roof tiles designed by Tesla are made of tempered textured glass that are "as tough as steel" and can withstand all weather conditions. The tiles can even be fitted with internal heating technology to melt the snow on your rooftop with ease. This is the future of technology in homeownership and the nearly free energy that will power your home for years to come.
During Elon Musk's speech on Tesla's new solar roof technology, the viewer steps into a home powered entirely by the sun's rays. During the day, the solar roof absorbs energy to power a model home and stores the excess energy in a Tesla Powerwall 2 lithium-ion battery for nighttime usage. The Tesla Powerwall's energy can also be used to power Tesla electric vehicles – further reducing carbon emissions and the tax on both the environment, and our wallets. The Powerwall 2 should be available for sale beginning in January of 2016. The initial rollout of the solar roof shingles should begin sometime in the summer of 2017, according to Tesla.
The best part of all of this? The solar roofs produced by Tesla will be less expensive and more durable than a typical roof, making the consumer's choice between the two, easy.
You can read more about Tesla's new solar roof technology and the company's proposed $2.2 billion dollar acquisition of SolarCity – the leader of full service solar power systems for homes and businesses here.
5) Centrum Bucktown Building Renderings Released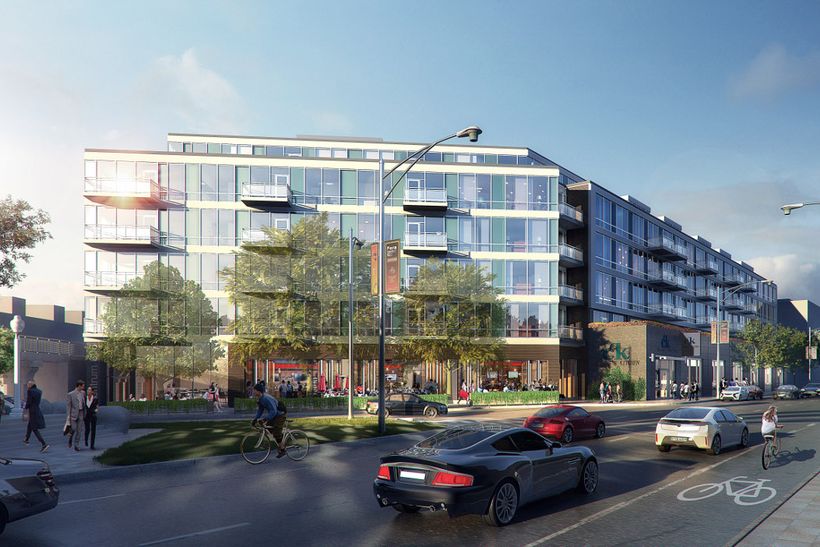 The new Centrum Bucktown building at 1747 N Milwaukee Ave adjacent to The 606 Bloomingdale Trail is beginning to take shape. Workers are diligently working to finish the new six level mixed use, 100-unit building by as early as next year. Recently, Curbed Chicago caught wind of Centrum Bucktown's new renderings through BuzzBuzzHome, a real estate blog dedicated to putting the spotlight on new construction homes.
Centrum Bucktown will feature a massive outdoor deck and an 18,000 square foot Aldi grocery store on the ground floor level.
We will be sure to follow the Centrum Bucktown project closely and post new developments on our blog, but if you want to be the first to know the latest news on the building and other new construction projects in the Bucktown neighborhood, contact us.