Eat / Drink / Sleep
1) Lula Café in Logan Square Featured in National Geographic's Best Fall Escapes
Anyone who knows Chicago, knows that Logan Square is one of hottest neighborhoods in the city, and with the hottest neighborhoods almost always comes the BEST food, especially in a culinary capital like Chicago. It's no surprise then that Lula Café – a longtime Logan Square destination for foodies, was featured in National Geographic's Best Fall Escapes guide for the restaurant's famous Royale breakfast sandwich. In a story by DNAinfo Chicago, owner and chef Jason Hammel says that The Royale has been on the menu at Lula Cafe for 12 years and the ingredients in the sandwich are always changing. Congrats to Lula Café for the Nat Geo nod! Breakfast is just another reason to move to Logan Square.
2) Publican Anker to Open in Wicker Park '6 Corners' Intersection Soon
It wasn't too long ago when One Off Hospitality Group – the folks behind three of Wicker Park's most beloved bar and restaurant establishments (Big Star, Dove's Luncheonette and The Violet Hour) put up a mural in honor of their newest project – Publican Anker, which will be located in the former Francesca's Forno Restaurant space at 1576 N Milwaukee Ave. Those that are familiar with Publican and Publican Quality Meats, which are both located in the West Loop, know that when it comes to meat and beer, the Publican brand does everything right. The new Publican Anker bar will have a "backyard party" atmosphere and will serve unique beer and wine selections. Publican Anker will also focus more on bar food including "raw and roasted shellfish". Chef AJ Walker was just recently named chef de cuisine of Publican Anker.
This project is another great addition to all of the recent developments at the '6 corners' intersection in Wicker Park including the new boutique hotel(s) The Robey (in the old Northwest Tower) and The Hollander (in the old Hollander Fireproof Warehouse). The opening of the new hotels and restaurants means increases in revenue for business owners along the main commercial corridors in Wicker Park (North Avenue, Damen Avenue, Milwaukee Avenue) and also increases in home value for residents of the neighborhood.
New Development
3) New MiCA Apartment Towers On Track to Open in Logan Square October 1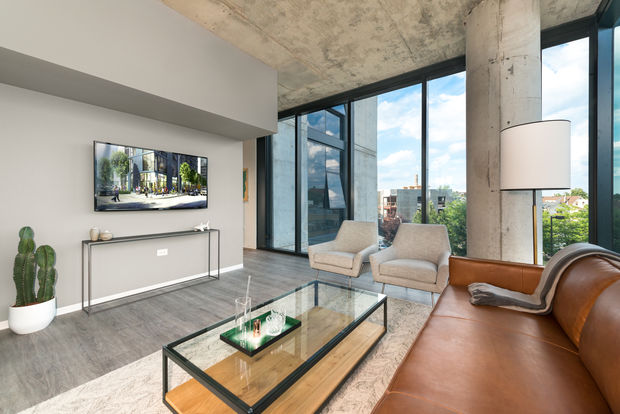 More hustle and bustle is coming to Logan Square's Milwaukee and California intersection. The new MiCA residential towers at 2733 W Belden Avenue and 2210 N Washtenaw Avenue are preparing for October 2016 move-ins. Convertible, 1 bedroom, 2 bedroom and 3 bedroom units are available for rent now. Units start at $1695/month for a convertible and increase to $3345/month for a 3 bedroom, 2 bath unit. There will be a total of 216 units between both of the towers.
According to the MiCA website, the apartments for rent at the new MiCA apartment towers in Logan Square will include contemporary finishes with high ceilings, large floor to ceiling windows, wide plank wood-style flooring, in-unit washer and dryer, stainless steel appliances in the kitchen, garbage disposals, gas stovetops, dishwashers and durable quartz countertops. Balconies will be available in select units. Building amenities will include a fitness center and an outdoor rooftop terrace with fire pits.
The MiCA apartment building in Logan Square will also feature ground level retail space and a public plaza that will bring residents of the two buildings and surrounding Logan Square neighborhood area together. Conveniently located off of the California Blue Line stop, the new MiCA apartments for rent will give residents easy access to public transportation to downtown Chicago as well as O'Hare International Airport.
The Milwaukee and California Avenue business corridors in Logan Square are also home to an excellent selection of local bars and restaurants including:
- Masada
- The Boiler Room
- Q-Tine
- The Chicago Diner
- Revolution Brewing
- Emporium Logan Square
If you are looking to rent an apartment in the new MiCA apartment towers in Logan Square, contact us today.
4) Plans to Extend The 606 Elevated Trail Eastward Towards the Chicago River Beginning to Take Shape
The 606 elevated trail park system developed by The Trust for Public Land has been riding a wave of overwhelming success lately. The local residents of the park's thoroughfare neighborhoods including: Wicker Park, Bucktown, Logan Square and Humboldt Park, have been singing its praises ever since The 606 opened on June 6, 2015. Due to that fact, there have been rumblings in the media lately of extending the trail eastward over Ashland Avenue and across the Kennedy Expressway before finally arriving at the north branch of the Chicago River and extending the trail further along the river into the Lincoln Park neighborhood.
Just like any good idea for improving the quality of life of West Town neighborhood residents via new green spaces and infrastructure, one must ask, where will the money come from? It sounds like developer Sterling Bay has an answer to that. The company's managing director, Andy Gloor recently spoke with Crain's Chicago Business about a few of Sterling Bay's upcoming projects. Amongst them extending The 606 east and over the Chicago River to a new development at the old Finkl Steel site. The new addition to The 606 would be called The 606 Finkl Connector as shown on the city of Chicago's collaborative social mapping tool (sMap). The project also has the support of Alderman Brian Hopkins of the 2nd Ward. Alderman Hopkins said at a recent speech at the City Club of Chicago "there is only one thing preventing the 606 trail from becoming a commuter super highway that would serve up to 300,000 Chicago residents who live in the neighborhood along that 3-mile trail", "if we can connect the existing 606 trail to the other side of the river, it opens up a whole new world of possibilities".
Hot Listings
5) 1725 W Pierce Avenue Unit 2 in Wicker Park 3BD/3BA Listed at $825,000
This modern 3 Bed, 3 Bath Duplex Up Penthouse unit was built in 2005 and is located on the highly coveted Pierce Avenue in the heart of Wicker Park. The open floor plan features 25 foot ceilings and 2 stories of living space with 3 outdoor terraces including a private rooftop deck with crystal clear skyline views of downtown Chicago. Garage Parking also included in the price!
If you are looking to buy a home in Wicker Park, contact us today to schedule a showing!
(listed by Michelle Berger of the North Clybourn Group)